Atlanta Turner Field Greeting Card
Not mass produced – All prints and other physical items are made individually for your order.
Ships Within: 2 to 4 business days
About This Image
Atlanta Turner Field 5×7 Greeting Card by Mark Tisdale.
This Atlanta Turner Field greeting card features art called "Rain Delay At The Ted" and, as the name suggests, features a rainy night at Turner Field. This stadium was home to the Atlanta Braves for a number of years following the 1996 Olympic Games until 2016.
My late father was a big Braves fan in good times and bad for much of his adult life. I'm particularly fond of doing these rainy night scenes so this was Turner Field artwork was in honor of my father who passed just after their last season at Turner Field ended. This is a unique card that would appeal to many who watched the Braves or, indeed, got to sit there at Turner Field and watch them play in person.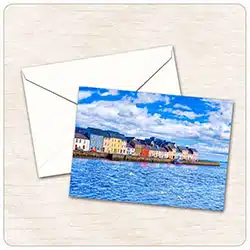 Greeting Cards – Product Information
Greeting cards are 5″ x 7″ in size and are produced on digital offset printers using 100 lb. paper stock. Each card is coated with a UV protectant on the outside surface which produces a semi-gloss finish. Each card comes with a white envelope.
These greeting cards may be ordered as a single card or in packs of 10 or 25 cards.
If you encounter difficulty accessing the on-site purchase button at the top of the page, please use this button to shop directly from Pixels/Fine Art America, the vendor who handles fulfillment for these products. And please notify me!