Autumn Path – Walk In the Woods Greeting Card
Not mass produced – All prints and other physical items are made individually for your order.
Ships Within: 2 to 4 business days
About This Image
Autumn Path – Walk In the Woods 5×7 Greeting Card by Mark Tisdale.
This walk in the woods greeting card  features a family walking on a beautiful autumn path. It doesn't represent any specific place but it is definitely influenced by the accumulated memories of fall foliage in North Georgia. When I lived in Alpharetta, it was fairly common for me to spend the weekends wandering northward to various scenic locations. It was a real treat during my favorite season of the year.
If you're taking a closer look at this autumn path artwork then I bet you're a fan of fall as well, eh? I hope you'll share what attracts you to this scene of a woodland path in a mix of gold and orange fall colors. Can you imagine yourself on the path with the family? Maybe it reminds you of specific memories rather than a general love of fall? I hope you'll share your thoughts and of course if you have questions about my work or the product I offer it on, please drop me a note.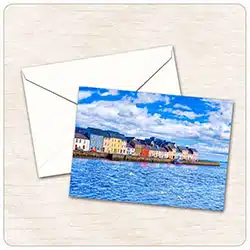 Greeting Cards – Product Information
Greeting cards are 5″ x 7″ in size and are produced on digital offset printers using 100 lb. paper stock. Each card is coated with a UV protectant on the outside surface which produces a semi-gloss finish. Each card comes with a white envelope.
These greeting cards may be ordered as a single card or in packs of 10 or 25 cards.
If you encounter difficulty accessing the on-site purchase button at the top of the page, please use this button to shop directly from Pixels/Fine Art America, the vendor who handles fulfillment for these products. And please notify me!