Bass Harbor Head Lighthouse – Maine Greeting Card
Not mass produced – All prints and other physical items are made individually for your order.
Ships Within: 2 to 4 business days
Tags:
architecture
,
Greeting Card
,
landscapes
,
lighthouses
,
Maine
,
New England
,
night
,
ocean
,
scenic
,
Tremont Maine
,
United States
About This Image
Bass Harbor Head Lighthouse – 5×7 Maine Greeting Card by Mark Tisdale.

This Maine greeting card features the Bass Harbor Head Lighthouse against a starry night sky. The mid 19th century lighthouse is on the national register of historic places and stands within the Acadia National Park. This beautiful coastal lighthouse has appeared on postage stamps (2016) and on an America the Beautiful quarter in 2012. Surely part of the appeal is that beautifully rugged Maine coastline?

Although I love lighthouses day or night, there's something magical about a lighthouse against a night sky and when I started work on this scenic view of Bass Harbor Head light, I could only picture it beneath a starry night sky with the landscape revealed in hues of blue light by a full moon. I wanted to use the moonlight to pick out the detail of the rocks and the water. And of course it helps light the facade of the lighthouse and cottage.

I would love to know what bring you to this particular Maine greeting card? Were you looking specifically for an image of this lighthouse? Or are you also a lighthouse lover and it's the overall scene that captured your eye? I hope you'll share your thoughts.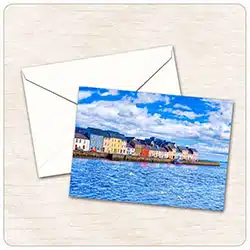 Greeting Cards – Product Information
Greeting cards are 5″ x 7″ in size and are produced on digital offset printers using 100 lb. paper stock. Each card is coated with a UV protectant on the outside surface which produces a semi-gloss finish. Each card comes with a white envelope.
These greeting cards may be ordered as a single card or in packs of 10 or 25 cards.
If you encounter difficulty accessing the on-site purchase button at the top of the page, please use this button to shop directly from Pixels/Fine Art America, the vendor who handles fulfillment for these products. And please notify me!