Bish Bash Bosh – British Slang Greeting Card
Not mass produced – All prints and other physical items are made individually for your order.
Ships Within: 2 to 4 business days
About This Image
Bish Bash Bosh – British Slang 5×7 Greeting Card by Mark Tisdale.
This British slang greeting card features the phrase "Bish, Bash, Bosh!" I've been a long time Anglophile and after countless hours of Doctor Who, British comedies and dramas, I enjoy still learning slang phrases and terms that are new to me. When I heard someone in a video say "Bish, bash bosh!" I was intrigued. In context it was apparent what the general meaning was but I've also read that it means a task is quickly and efficiently done – perhaps a more recent version of "Bob's your uncle!"
The general theme of the words reminded me of the action oriented sound effects one would see written in comic books of years gone by. And that was the genesis of the design for this artwork illustrating the words "Bish, Bash, Bosh!" I had great fun with this one and it's a great design choice for a unique and attention grabbing greeting card with a British theme.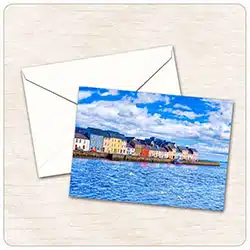 Greeting Cards – Product Information
Greeting cards are 5″ x 7″ in size and are produced on digital offset printers using 100 lb. paper stock. Each card is coated with a UV protectant on the outside surface which produces a semi-gloss finish. Each card comes with a white envelope.
These greeting cards may be ordered as a single card or in packs of 10 or 25 cards.
If you encounter difficulty accessing the on-site purchase button at the top of the page, please use this button to shop directly from Pixels/Fine Art America, the vendor who handles fulfillment for these products. And please notify me!