Bodie Island Lighthouse – Rainy Night Greeting Card
Not mass produced – All prints and other physical items are made individually for your order.
Ships Within: 2 to 4 business days
About This Image
Bodie Island Lighthouse – Rainy Night 5×7 Greeting Card by Mark Tisdale.

This rainy night greeting card features a brilliant view of Bodie Island lighthouse in the Outer Banks of North Carolina. Bodie Island Light built in 1872 is the third lighthouse on Bodie Island. It's a 170 foot tall brick lighthouse, one of only about a dozen like it remaining. It's also rare in that it's one of the few lighthouses to retain its original first order Fresnel lens.

I felt like a soaring lighthouse like the one on Bodie Island deserved a sweeping landscape scene and something with a bit of drama. Hence the stormy skies and the rain drops. The foreground is filled with marshy grasses lit in mostly pale blues. On the right hand side you see the warm glow of the window in the lighthouse keeper's quarters. And of course there's the bright light of beacon lighting the skies above.

I would love to know what first attracted you to the image on this Bodie Island lighthouse greeting card? Do you love lighthouse art in general or did you come looking specifically for an OBX image? I hope you'll share your thoughts about my artwork.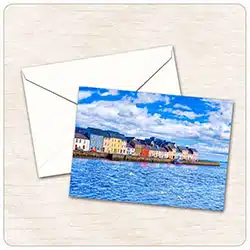 Greeting Cards – Product Information
Greeting cards are 5″ x 7″ in size and are produced on digital offset printers using 100 lb. paper stock. Each card is coated with a UV protectant on the outside surface which produces a semi-gloss finish. Each card comes with a white envelope.
These greeting cards may be ordered as a single card or in packs of 10 or 25 cards.
If you encounter difficulty accessing the on-site purchase button at the top of the page, please use this button to shop directly from Pixels/Fine Art America, the vendor who handles fulfillment for these products. And please notify me!