Boston Clock Tower – Black and White Greeting Card
Not mass produced – All prints and other physical items are made individually for your order.
Ships Within: 2 to 4 business days
About This Image
Boston Clock Tower – Black and White 5×7 Greeting Card by Mark Tisdale.
This black and white greeting card features the landmark Boston Clock Tower. While the original custom house at the base of the tower was built in the early 1800's, the clock tower above was not built until the 1910's. And even at that the tower is still over a century old! It almost goes without saying that Boston's clock tower has been on the National Register of Historic Places for decades (1973). The tower houses a Marriott Hotel today.
Typically I'm known for my colorful images, but every so often, especially when architecture is involved, I see an image that would make be perfect in black and white. That was definitely the case with this sunny Boston scene. Black and white really brings the lines of these historic buildings into focus, don't you think?
I'd love to hear what brought you to the image on this Boston card. Are you looking for a gift for someone with ties to Boston? Or maybe you call Boston home yourself and want a high contrast black and white greeting card? I'd love to hear what attracts you to this image?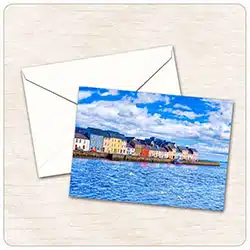 Greeting Cards – Product Information
Greeting cards are 5″ x 7″ in size and are produced on digital offset printers using 100 lb. paper stock. Each card is coated with a UV protectant on the outside surface which produces a semi-gloss finish. Each card comes with a white envelope.
These greeting cards may be ordered as a single card or in packs of 10 or 25 cards.
If you encounter difficulty accessing the on-site purchase button at the top of the page, please use this button to shop directly from Pixels/Fine Art America, the vendor who handles fulfillment for these products. And please notify me!