Caribbean Coast At Sunset – Playa del Carmen Greeting Card
Not mass produced – All prints and other physical items are made individually for your order.
Ships Within: 2 to 4 business days
About This Image
Caribbean Coast At Sunset – 5×7 Playa del Carmen Greeting Card by Mark Tisdale.
This Playa del Carmen greeting card shows the Caribbean coast at sunset. Of course if you've visited, you know that the sun rises rather that sets over the Caribbean sea at Playa del Carmen. However, what people don't always realize is the way that sunsets and sunrises illuminate the landscape in the opposite direction. So many of us are fixed on that beautiful warm orb settling into the sea that we don't look the other way. In the case of Playa del Carmen in Mexico, this was the sight looking out over the water at sunset. There were still people enjoying the water and the clouds over the sea were lit up by the warm golden glow. It was at once calming and comforting. There's something about the warm light of the sun on the horizon isn't there?
I would love to hear what attracts you to this scenic view of the Caribbean coast at sunset? Does the image printed on this card remind you of a particular time when you visited this region of Mexico? Or do you simply love a tropical seascape? I hope you'll share your thoughts.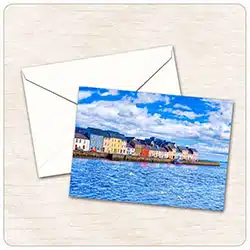 Greeting Cards – Product Information
Greeting cards are 5″ x 7″ in size and are produced on digital offset printers using 100 lb. paper stock. Each card is coated with a UV protectant on the outside surface which produces a semi-gloss finish. Each card comes with a white envelope.
These greeting cards may be ordered as a single card or in packs of 10 or 25 cards.
If you encounter difficulty accessing the on-site purchase button at the top of the page, please use this button to shop directly from Pixels/Fine Art America, the vendor who handles fulfillment for these products. And please notify me!