Caribbean Pier – Playa del Carmen Greeting Card
Not mass produced – All prints and other physical items are made individually for your order.
Ships Within: 2 to 4 business days
About This Image
Caribbean Pier – Playa del Carmen 5×7 Greeting Card by Mark Tisdale.
This Playa del Carmen greeting card features a seascape with a Caribbean pier reaching bridging the eye visually from the foreground into the sea. the only occupants of the pier are the sea birds and there's a feeling of peace as if one has the beach to themselves. The sky on the horizon is beautifully layered with clouds that billow into the upper reaches of the sky. This scene overall gives me not only a sense of peace but contentment.
I have often wondered what it is about certain subjects that strike our collective fancy. As a visual element this Caribbean sea pier leads the eye into those beautiful waters, but I think it may go deeper than that. If you have ever studied archaeology you discover that there's no shortage of ancient sacred places that are tied into water. Seaside cliffs, bogs, natural springs, they were all seen as a connection to the sacred world. I have even read tales of the discovery of old piers and man-made islands in the waters of ancient Britain. Those structures seemed to be an attempt to bridge the sacred waters and the land. That's why I think images like this Caribbean Sea pier ultimately tap into ancient connections in our collective conscious. We may not be aware that's what's happening, but I think whatever your explanation is, there's a deeper explanation there of what we find inexplicably beautiful.
What attracts you to the image printed on this Caribbean pier greeting card? Have you visited Playa del Carmen Mexico or is your interest in this artwork simply down to your attraction to seascapes or the feelings this scenic view imparts in you? I hope you'll take time to share your thoughts.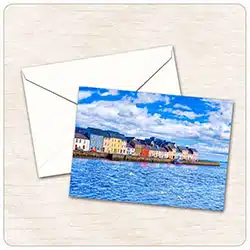 Greeting Cards – Product Information
Greeting cards are 5″ x 7″ in size and are produced on digital offset printers using 100 lb. paper stock. Each card is coated with a UV protectant on the outside surface which produces a semi-gloss finish. Each card comes with a white envelope.
These greeting cards may be ordered as a single card or in packs of 10 or 25 cards.
If you encounter difficulty accessing the on-site purchase button at the top of the page, please use this button to shop directly from Pixels/Fine Art America, the vendor who handles fulfillment for these products. And please notify me!