Chicago Harbor Lighthouse Greeting Card
Not mass produced – All prints and other physical items are made individually for your order.
Ships Within: 2 to 4 business days
About This Image
Chicago Harbor Lighthouse 5×7 Greeting Card by Mark Tisdale
This Chicago Harbor Lighthouse greeting card features a beautiful day with blue skies, great clouds, and a sailboat on the waters of Lake Michigan in the foreground. This old lighthouse was originally built for the 1893 World's Columbian Exposition which was held in Chicago. In 1919 it was moved to its current location to the east of Navy Pier. When the light was built in the late 19th century it featured cutting edge equipment and construction to showcase new technologies for the exposition.  The old harbor light was added to the US National Register of Historic Places in the 1980s. The coast guard quit using the light in 2005 and transferred ownership to the city of Chicago who is trying to preserve and maintain the historic lighthouse. As other historic lights on the great lakes have been demolished it reminds us how quickly this era of life along Lake Michigan is fading into the past.
The artwork on this Chicago Harbor Lighthouse greeting card is based off photos from one of my trips there years ago. When I saw this lighthouse on a visit to Chicago years ago, I had no idea about the history of the light. I just thought it had a beautiful appearance  and I admit I'm simply a sucker for old lighthouses. I felt that the lighthouse almost on the horizon was a beautiful backdrop to a passing sailboat. There's a real sense of life on the water which I think may resonate with some who call the Chicago area home.
I would love to hear what attracted you to this Chicago Harbor Lighthouse greeting card. Do you have special memories of this lighthouse or do you simply love the history of these old buildings? Maybe it reminds you of days sailing on Lake Michigan? Or maybe some combination of all those? For me, it's a reminder of a beautiful day on the waterfront in Chicago. There's a real feeling of tranquility and peace that comes with this image for me.
This card is available as a single card or in packs of 10 and 25 in addition to other print formats. If you have any questions about ordering cards or prints or general comments or questions about this image, you may send me a message.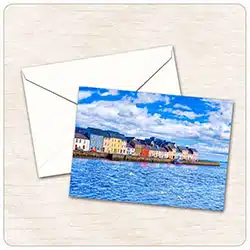 Greeting Cards – Product Information
Greeting cards are 5″ x 7″ in size and are produced on digital offset printers using 100 lb. paper stock. Each card is coated with a UV protectant on the outside surface which produces a semi-gloss finish. Each card comes with a white envelope.
These greeting cards may be ordered as a single card or in packs of 10 or 25 cards.
If you encounter difficulty accessing the on-site purchase button at the top of the page, please use this button to shop directly from Pixels/Fine Art America, the vendor who handles fulfillment for these products. And please notify me!