Christ On The Cross at Slea Head – Dingle Ireland Greeting Card
Not mass produced – All prints and other physical items are made individually for your order.
Ships Within: 2 to 4 business days
About This Image
Christ On The Cross at Slea Head – Dingle Ireland 5×7 Greeting Card by Mark Tisdale.

This Dingle Ireland greeting card shows Christ on the Cross at Slea Head on the Dingle Peninsula. This shrine was an unexpected surprise during the Slea Head drive on New Year's day years ago. The white stone in the bright morning light was eye catching on its own. The backdrop of the rocks and the surrounding landscape took it to another level. I searched for background information about this Crucifixion sculpture since my visit but beyond its existence I've never found any of the history. I've read this roadside shrine referred to as a "Pieta-like Crucifixion scene" as well as the "Calvary of Christ." I wish I knew more details about it but what I do know from my own eyes is that it is situated at a particularly beautiful and prominent place on the Dingle Peninsula. And I'm sure that many would agree it's an unforgettable sight on a sunny day.

The sunny skies with the streaks of clouds is also a memorable part of this scene. There's almost an angelic quality to those clouds don't you think?

I would love to hear what attracts you to this greeting card showing Christ on the Cross in Dingle, Ireland. And if you have any more information about its history, I'd be excited to hear from you as well!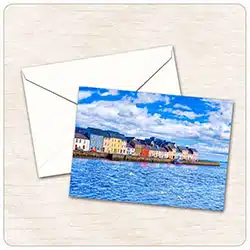 Greeting Cards – Product Information
Greeting cards are 5″ x 7″ in size and are produced on digital offset printers using 100 lb. paper stock. Each card is coated with a UV protectant on the outside surface which produces a semi-gloss finish. Each card comes with a white envelope.
These greeting cards may be ordered as a single card or in packs of 10 or 25 cards.
If you encounter difficulty accessing the on-site purchase button at the top of the page, please use this button to shop directly from Pixels/Fine Art America, the vendor who handles fulfillment for these products. And please notify me!