Classic Atlanta Midtown Skyline Greeting Card
Not mass produced – All prints and other physical items are made individually for your order.
Ships Within: 2 to 4 business days
About This Image
Classic Atlanta Midtown Skyline 5×7 Greeting Card by Mark Tisdale.
This greeting card features an aerial view of the Atlanta Midtown skyline that packs a vintage feel. This photographic art was intended to look like it might be a vintage postcard with classic color tones and a worn appearance.
This classic Atlanta Midtown skyline view has been a popular choice over the years. It certainly includes an array of skyscrapers including the tallest, Bank of America Plaza.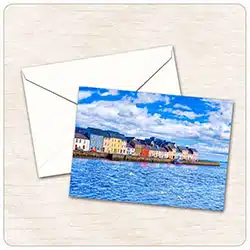 Greeting Cards – Product Information
Greeting cards are 5″ x 7″ in size and are produced on digital offset printers using 100 lb. paper stock. Each card is coated with a UV protectant on the outside surface which produces a semi-gloss finish. Each card comes with a white envelope.
These greeting cards may be ordered as a single card or in packs of 10 or 25 cards.
If you encounter difficulty accessing the on-site purchase button at the top of the page, please use this button to shop directly from Pixels/Fine Art America, the vendor who handles fulfillment for these products. And please notify me!