Clerys Department Store – Historic Dublin Greeting Card
Not mass produced – All prints and other physical items are made individually for your order.
Ships Within: 2 to 4 business days
About This Image
Clerys Department Store – Historic Dublin 5×7 Greeting Card by Mark Tisdale.

This historic Dublin greeting card features Clerys Department Store, once a Dublin landmark. Clerys Department Store opened in 1853. When I visited Dublin it was still open but it after more than a century in business it closed in 2015. This Dublin street scene is based on photos I took on one of my last mornings in Dublin. The sunshine was streaming down O'Connell Street picking out all the details on the historic architecture that Dublin's north side is well known for.

The landmark Clerys Department store building dates from 1922. The original was destroyed in the Easter Rising of 1916. The clock you can see over the main doors was long a meeting point. In the days before mobile phones and the like, people would arrange to meet under Clerys Clock. The building of course remains and is being redeveloped but the history of Clerys Department store has closed. I'm glad I had a chance to shop there even if I only got a pair of gloves. Ha!

What attracts you to the image on this Dublin greeting card? Do you have memories of Clerys Department store or are you attracted to large street scenes like this? I hope you'll share your thoughts about this artwork.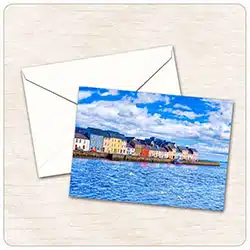 Greeting Cards – Product Information
Greeting cards are 5″ x 7″ in size and are produced on digital offset printers using 100 lb. paper stock. Each card is coated with a UV protectant on the outside surface which produces a semi-gloss finish. Each card comes with a white envelope.
These greeting cards may be ordered as a single card or in packs of 10 or 25 cards.
If you encounter difficulty accessing the on-site purchase button at the top of the page, please use this button to shop directly from Pixels/Fine Art America, the vendor who handles fulfillment for these products. And please notify me!