Cockspur Island Light At Night – Georgia Coast Greeting Card
Not mass produced – All prints and other physical items are made individually for your order.
Ships Within: 2 to 4 business days
About This Image
Cockspur Island Light At Night – Georgia Coast 5×7 Greeting Card by Mark Tisdale.
This Georgia coast greeting card features Cockspur Island Light – Georgia's smallest lighthouse. The history of a light at this location goes back to a brick daymarker built in the 1830's. Although not the first lighthouse on Cockspur Island, the current structure dates to 1855 and miraculously survived the bombardment of nearby Fort Pulaski in 1862. Its years as an active aid to navigation ended in 1909 when traffic to the port of Savannah shifted to the north channel which could handle larger ships. In recent years, the light has been the subject of restoration efforts and was re-lit in 2007. There was originally a keeper's cottage at Cockspur Island Lighthouse but it was lost long ago.
This is not my first artwork featuring Cockspur Island light. It's such a pretty subject that it's difficult not to revisit it and I had imagined it on a starry night on the Georgia Coast and that's how I depicted it. The skies above are a wash with the milky way and there's a warm happy glow from the lantern of the lighthouse as well as the windows suggesting long ago times when the lighthouse was manned. Maybe the ghosts of the past are keeping the lights on?
When I see this scene, I can hear the sounds of the night and it feels magical. How about you? What attracts you to the image on this Georgia coast greeting card? Are you a lighthouse lover in general or do you have a fondness for this wee lighthouse specifically?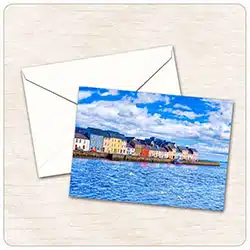 Greeting Cards – Product Information
Greeting cards are 5″ x 7″ in size and are produced on digital offset printers using 100 lb. paper stock. Each card is coated with a UV protectant on the outside surface which produces a semi-gloss finish. Each card comes with a white envelope.
These greeting cards may be ordered as a single card or in packs of 10 or 25 cards.
If you encounter difficulty accessing the on-site purchase button at the top of the page, please use this button to shop directly from Pixels/Fine Art America, the vendor who handles fulfillment for these products. And please notify me!