Cockspur Island Lighthouse – Georgia Coast Greeting Card
Not mass produced – All prints and other physical items are made individually for your order.
Ships Within: 2 to 4 business days
About This Image
Cockspur Island Lighthouse – Georgia Coast 5×7 Greeting Card by Mark Tisdale.
This Georgia coast greeting card features the Cockspur Island Lighthouse. The first daymark on this location was from around 1839 while the current structure dates from 1855.
Cockspur Island Lighthouse, to me, has a magic to it. I think it's the small size and how it seems to pierce the water like a fairy tale tower would. And that was the general dreamy vibe of the lighthouse art on this card.
The historic light today is no longer in use for navigation but is so loved by locals and visitors to the Georgia Coast that it was illiuminated again in 2007.
Have you visited the light at Cockspur Island on a trip to the Georgia coast? Or maybe you live near there? Or perhaps you simply love the classic styling of an authentic 19th century lighthouse standing watch over serene blue coastal waters? I hope you'll stop for a moment to share what attracted you to this Georgia coast greeting card!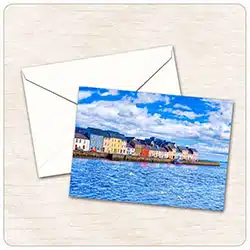 Greeting Cards – Product Information
Greeting cards are 5″ x 7″ in size and are produced on digital offset printers using 100 lb. paper stock. Each card is coated with a UV protectant on the outside surface which produces a semi-gloss finish. Each card comes with a white envelope.
These greeting cards may be ordered as a single card or in packs of 10 or 25 cards.
If you encounter difficulty accessing the on-site purchase button at the top of the page, please use this button to shop directly from Pixels/Fine Art America, the vendor who handles fulfillment for these products. And please notify me!