Colorful Dingle – Irish Greeting Card
Not mass produced – All prints and other physical items are made individually for your order.
Ships Within: 2 to 4 business days
About This Image
Colorful Dingle – 5×7 Irish Greeting Card by Mark Tisdale.

This Irish greeting card features Colorful Dingle in County Kerry. I was told the Dingle Peninsula is a favorite place for artists and that many have moved near Dingle town because of the beautiful light. Based on my short time there I have no doubt. The light even on a winter day was just spectacular. I found Ireland in general to be much more colorful than I would have guessed but the scenic little town of Dingle seemed especially so. I started my trip in Ireland on a week long trek seeing the highlights of Ireland, of which Dingle definitely qualified. I wanted to get back to Dingle but the month I had afterwards ran by so fast. Now there are times that sunny day in colorful Dingle feels like a dream. And I'm afraid if I ever make it back I'll be unable to leave again. I can imagine worse fates, can't you?

I would love to hear what attracted you to the image on this Irish greeting card of a sunny day in Dingle Town? Do you just love the colorful setting? Or have you been to Dingle and this reminds you of your own time there? I hope you'll take a second to share your thoughts.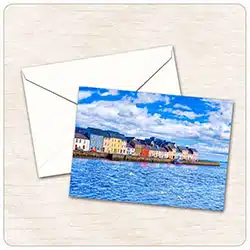 Greeting Cards – Product Information
Greeting cards are 5″ x 7″ in size and are produced on digital offset printers using 100 lb. paper stock. Each card is coated with a UV protectant on the outside surface which produces a semi-gloss finish. Each card comes with a white envelope.
These greeting cards may be ordered as a single card or in packs of 10 or 25 cards.
If you encounter difficulty accessing the on-site purchase button at the top of the page, please use this button to shop directly from Pixels/Fine Art America, the vendor who handles fulfillment for these products. And please notify me!