Cotton Ready For Harvest – Georgia Greeting Card
Not mass produced – All prints and other physical items are made individually for your order.
Ships Within: 2 to 4 business days
About This Image
Cotton Ready For Harvest – 5×7 Georgia Greeting Card by Mark Tisdale.

This Georgia greeting card features a field filled with fluffy white cotton ready for harvest. Whether you've farmed or lived in rural Georgia, then this is a familiar site most likely. I know I'm not alone in calling this southern snow. Because when it's harvest time the shoulders of the road are oven scattered with drifts of cotton that has blown off trucks. Some years it's the only thing we get close to snow! It's certainly a more reliable site in the part of Georgia where I grew up.

Old red barns like the one seen in the image on this rural Georgia greeting card are becoming a bit more scarce. All old barns were not per se red but old family photos reveal barns not unlike this one in shape. It's a vernacular style of architecture that seemed common on family farms once upon a time. The barn in this cotton field is based on one I photographed along a country road in nearby Pulaski county near Hawkinsville years ago. The fields were empty but the fields sloped upwards towards not unlike this scene where the rows of cotton ready to harvest are leading the eye to that old red barn on the horizon.

What attracts you to the scenic farming artwork on this card? Do these cotton fields remind you or some place or someone special to you?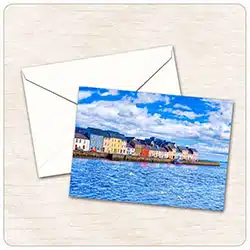 Greeting Cards – Product Information
Greeting cards are 5″ x 7″ in size and are produced on digital offset printers using 100 lb. paper stock. Each card is coated with a UV protectant on the outside surface which produces a semi-gloss finish. Each card comes with a white envelope.
These greeting cards may be ordered as a single card or in packs of 10 or 25 cards.
If you encounter difficulty accessing the on-site purchase button at the top of the page, please use this button to shop directly from Pixels/Fine Art America, the vendor who handles fulfillment for these products. And please notify me!