D.F. Douglass High School – Montezuma Georgia Greeting Card
Not mass produced – All prints and other physical items are made individually for your order.
Ships Within: 2 to 4 business days
About This Image
D.F. Douglass High School – Montezuma Georgia 5×7 Greeting Card by Mark Tisdale.
This Montezuma Georgia greeting card features D.F. Douglass High School which was in operation from 1958 through 1998. My late father, Charlie Tisdale, was among those who taught and coached at the school for a number of years. In fact, a lot of my childhood was spent there when the teams he worked with practiced, etc. When I recently saw the condition of the old school building and realized it might not be around a lot longer, it motivated me to try to depict it more or less as I remembered it from years past.
D.F. Douglass High School was named for Dennis Fulton Douglass, a prominent African American educator born to parents who were slaves in Augusta in 1860. After college he held a number of jobs centered around writing and publishing with the goal of improving the lives of other African Americans. Ultimately he settled in Montezuma as principal of the Montezuma Public School in 1906. He passed in 1929 but when the new school opened in 1958, his contribution was remembered and it was named in his honor. I am told that when D.F. Douglass closed in 1998, it was the last "all black" school in Georgia.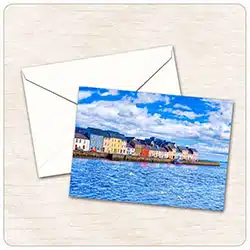 Greeting Cards – Product Information
Greeting cards are 5″ x 7″ in size and are produced on digital offset printers using 100 lb. paper stock. Each card is coated with a UV protectant on the outside surface which produces a semi-gloss finish. Each card comes with a white envelope.
These greeting cards may be ordered as a single card or in packs of 10 or 25 cards.
If you encounter difficulty accessing the on-site purchase button at the top of the page, please use this button to shop directly from Pixels/Fine Art America, the vendor who handles fulfillment for these products. And please notify me!