Doc's Bar – Tybee Island Greeting Card
Not mass produced – All prints and other physical items are made individually for your order.
Ships Within: 2 to 4 business days
About This Image
Doc's Bar – Tybee Island 5×7 Greeting Card by Mark Tisdale.
This Tybee Island greeting card eatures Doc's Bar beneath a night sky. Doc's Bar is something of an instittution on Tybee Island. It opened in 1948, although it has changed hands a number of times over the decades. And the landmark has clearly taken on a life of its own because locals on Tybee Island have refused to let it die which shows how special the place is to them.
The artwork on this Doc's Bar card features the little bar beneath a star filled sky. The glow of lights filter out the windows and the open door. It look like a nice night down on Tybrisa Street on the Georgia coast.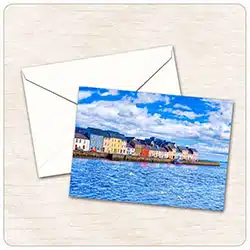 Greeting Cards – Product Information
Greeting cards are 5″ x 7″ in size and are produced on digital offset printers using 100 lb. paper stock. Each card is coated with a UV protectant on the outside surface which produces a semi-gloss finish. Each card comes with a white envelope.
These greeting cards may be ordered as a single card or in packs of 10 or 25 cards.
If you encounter difficulty accessing the on-site purchase button at the top of the page, please use this button to shop directly from Pixels/Fine Art America, the vendor who handles fulfillment for these products. And please notify me!