Downtown Montezuma – Georgia Greeting Card
Not mass produced – All prints and other physical items are made individually for your order.
Ships Within: 2 to 4 business days
About This Image
Downtown Montezuma – 5×7 Georgia Greeting Card by Mark Tisdale
This Georgia greeting card features downtown Montezuma. Seen here in the early morning light is the main street, South Dooly. Like most small towns in the 21st century, it's struggled to make use of all its historic storefronts but in some respects the town actually looks better than in my childhood.
In the 1950's and 1960's many of these brick storefronts were covered in the then-popular modern aluminum siding that covered up the original details. In the summer of 1994, Montezuma suffered a devastating flood that made national news. After the flood with historic grant money, most of the architecture of our downtown was returned to a more original style – in this case a very classic early 1900's small town feel captured in the image on this card.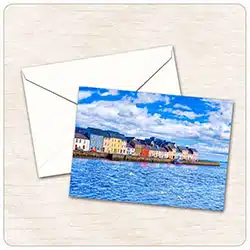 Greeting Cards – Product Information
Greeting cards are 5″ x 7″ in size and are produced on digital offset printers using 100 lb. paper stock. Each card is coated with a UV protectant on the outside surface which produces a semi-gloss finish. Each card comes with a white envelope.
These greeting cards may be ordered as a single card or in packs of 10 or 25 cards.
If you encounter difficulty accessing the on-site purchase button at the top of the page, please use this button to shop directly from Pixels/Fine Art America, the vendor who handles fulfillment for these products. And please notify me!