English Cottage Style Home – Georgia Greeting Card
Not mass produced – All prints and other physical items are made individually for your order.
Ships Within: 2 to 4 business days
About This Image
English Cottage Style Home – 5×7 Georgia Greeting Card by Mark Tisdale.
The subject of this Georgia greeting card is a classic English cottage style home in Montezuma, my home town. The design of the house on this card is classic Americana. There was a period around the beginning of the 20th century when English Vernacular Revival architecture was quite popular. And people still seek old homes and build new homes in this style today. There's simply something appealing and homey about it that makes for classic art as well. There's definitely a storybook quality to these old homes.
This old house was built in 1907. This historic English cottage style home has the distinction of having been designed by Georgia's first registered female architect, Leila Ross Wilburn.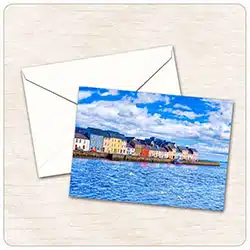 Greeting Cards – Product Information
Greeting cards are 5″ x 7″ in size and are produced on digital offset printers using 100 lb. paper stock. Each card is coated with a UV protectant on the outside surface which produces a semi-gloss finish. Each card comes with a white envelope.
These greeting cards may be ordered as a single card or in packs of 10 or 25 cards.
If you encounter difficulty accessing the on-site purchase button at the top of the page, please use this button to shop directly from Pixels/Fine Art America, the vendor who handles fulfillment for these products. And please notify me!