Faith Chapel on Jekyll Island – Georgia Coast Greeting Card
Not mass produced – All prints and other physical items are made individually for your order.
Ships Within: 2 to 4 business days
About This Image
Faith Chapel on Jekyll Island – Georgia Coast 5×7 Greeting Card by Mark Tisdale.

This Georgia coast greeting card features the historic Faith Chapel on Jekyll Island. The church was built in 1904 in shingle style with gothic flourishes like the gargoyles seen beneath the tower roof. Those gargoyles were in fact modeled after the ones at Notre Dame in Paris. During America's gilded age, Jekyll Island was a playground for the rich and famous. While some of the "cottages" on Jekyll fell into ruin after the island was evacuated during WWII, this fairy tale chapel survived. Today in addition to a being a beautiful tourist stop, it's an unforgettable wedding venue.

Faith chapel on Jekyll Island is storybook architecture in a beautiful setting. And that was what I wanted to emphasize in the image on this Georgia coast greeting card. From the palm trees to the lush grass, it's the verdant coast. Even without seeing the ocean, you can look at this place and understand why Jekyll Island was a destination then and now.

What catches your attention in the scene depicted on this Georgia coast greeting card? Do you love Georgia's coast in general or are you looking for a Faith Chapel greeting card? Maybe for a wedding or anniversary? I hope you'll share what brought you here and caught your eye about the art on this card.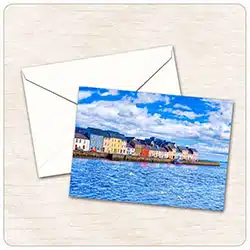 Greeting Cards – Product Information
Greeting cards are 5″ x 7″ in size and are produced on digital offset printers using 100 lb. paper stock. Each card is coated with a UV protectant on the outside surface which produces a semi-gloss finish. Each card comes with a white envelope.
These greeting cards may be ordered as a single card or in packs of 10 or 25 cards.
If you encounter difficulty accessing the on-site purchase button at the top of the page, please use this button to shop directly from Pixels/Fine Art America, the vendor who handles fulfillment for these products. And please notify me!