Fall Leaves In The Wind – Autumn Greeting Card
Not mass produced – All prints and other physical items are made individually for your order.
Ships Within: 2 to 4 business days
About This Image
Fall Leaves In The Wind – 5×7 Autumn Greeting Card by Mark Tisdale.
This autumn greeting card is titled "Fall Leaves In The Wind" because of the appearance that winds are floating free of the trees. I know I've said it before but Autumn is my favorite season. From the fall colors to the, in my opinion, more desirable temperatures, it's just the best of the best. So there's no question why I draw inspiration from the fall foliage even if I don't get to see it every year. When I lived in the northern burbs of Atlanta, I often spent weekends wandering in the North Georgia mountains taking in the scenery. Oh those lasting memories of dazzling fall color as seen here!
I suspect if you're checking out the image on this Autumn greeting card, then you are probably also a fan of fall foliage? What attracts you to this particular artwork? I hope you'll share your thoughts and most of all, if you have questions about my work or the products it's printed on, please drop me a message. Whether it's to chat about fall colors or to answer questions you might have, I'm happy to respond.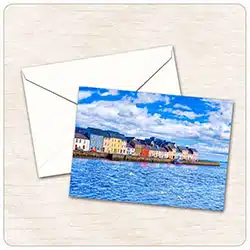 Greeting Cards – Product Information
Greeting cards are 5″ x 7″ in size and are produced on digital offset printers using 100 lb. paper stock. Each card is coated with a UV protectant on the outside surface which produces a semi-gloss finish. Each card comes with a white envelope.
These greeting cards may be ordered as a single card or in packs of 10 or 25 cards.
If you encounter difficulty accessing the on-site purchase button at the top of the page, please use this button to shop directly from Pixels/Fine Art America, the vendor who handles fulfillment for these products. And please notify me!