Flatiron Building – Atlanta Black And White Greeting Card
Not mass produced – All prints and other physical items are made individually for your order.
Ships Within: 2 to 4 business days
About This Image
Flatiron Building – Atlanta Black And White 5×7 Greeting Card by Mark Tisdale.
This Atlanta black and white greeting card features the Flatiron Building as it's commonly known. Its official name is the English-American building, and it's not just a smaller twin to New York City's Flatiron, it's the oldest surviving skyscraper in Atlanta. Built in 1897, it was actually the second skyscraper to be built in Atlanta. Although those first skyscrapers all seem small by today's standards, don't they?
The Atlanta Flatiron Building was also among my earliest subjects. When I heard that Atlanta had its own Flatiron, I wanted to see it and capture it. And I was not disappointed.
Although I don't often work in black and white, there's a great graphic sense to architecture like this that really pops in black and white. There's a strong feeling of the design of the Flatiron and its neighbors in the image on this card.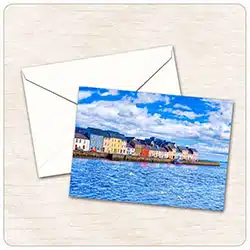 Greeting Cards – Product Information
Greeting cards are 5″ x 7″ in size and are produced on digital offset printers using 100 lb. paper stock. Each card is coated with a UV protectant on the outside surface which produces a semi-gloss finish. Each card comes with a white envelope.
These greeting cards may be ordered as a single card or in packs of 10 or 25 cards.
If you encounter difficulty accessing the on-site purchase button at the top of the page, please use this button to shop directly from Pixels/Fine Art America, the vendor who handles fulfillment for these products. And please notify me!