Ford Buildings – Berry College Greeting Card
Not mass produced – All prints and other physical items are made individually for your order.
Ships Within: 2 to 4 business days
About This Image
Ford Buildings – Berry College 5×7 Greeting Card by Mark Tisdale.

This Berry College greeting card features the Ford Buildings. This landmark on the campus at Berry College in Floyd County, Georgia, was built with money donated by Henry and Clara Ford of Ford Motor Company fame. They were constructed in Collegiate Gothic style to be the Princeton of the south by Boston architect Harry Carlson. The first part of the complex completed was Clara Hall named for Mrs. Ford. In Henry Ford's lifetime the buildings were known as Martha Berry School for Girls but since his death they have been referred to as the Ford Buildings.

History aside, the artwork on this Berry College greeting card features what is simply a beautiful scene. This part of the Berry Campus is a lovely combination of great architecture and landscaping. I mean, look at that reflecting pool – classic!

I would love to hear what attracts you most to this Berry College image featuring the Ford Buildings. Did you attend Berry College? Or perhaps you are looking for a card for someone who did? Does this scene capture the striking beauty of Berry's campus for you?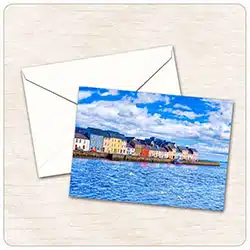 Greeting Cards – Product Information
Greeting cards are 5″ x 7″ in size and are produced on digital offset printers using 100 lb. paper stock. Each card is coated with a UV protectant on the outside surface which produces a semi-gloss finish. Each card comes with a white envelope.
These greeting cards may be ordered as a single card or in packs of 10 or 25 cards.
If you encounter difficulty accessing the on-site purchase button at the top of the page, please use this button to shop directly from Pixels/Fine Art America, the vendor who handles fulfillment for these products. And please notify me!