Georgia Coastal Salt Marsh – Cumberland Island Greeting Card
Not mass produced – All prints and other physical items are made individually for your order.
Ships Within: 2 to 4 business days
About This Image
Georgia Coastal Salt Marsh – Cumberland Island 5×7 Greeting Card by Mark Tisdale
This Cumberland Island greeting card features art inspired by the Georgia coastal salt marsh there and all along the golden isles of Georgia. This print captures the serene beauty of a vast expanse of salt marsh grasses. The clouds in the sky overhead are reflected in the still surface of the marsh water.
The artwork on this card would bring a little bit of serenity to your world or the person you might send it to. Perfect for those who love the outdoors or simply enjoy a bit of peaceful zen in their surroundings.
I would enjoy hearing what attracts you to the salt marsh artwork on this card? Does it remind you of living or visiting along the Georgia coast? Or is the calming beauty that spoke to you? If you have comments or questions I hope you'll drop me a note.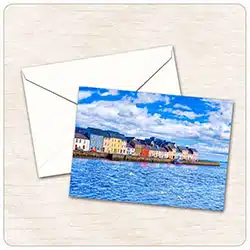 Greeting Cards – Product Information
Greeting cards are 5″ x 7″ in size and are produced on digital offset printers using 100 lb. paper stock. Each card is coated with a UV protectant on the outside surface which produces a semi-gloss finish. Each card comes with a white envelope.
These greeting cards may be ordered as a single card or in packs of 10 or 25 cards.
If you encounter difficulty accessing the on-site purchase button at the top of the page, please use this button to shop directly from Pixels/Fine Art America, the vendor who handles fulfillment for these products. And please notify me!