Krog Street Tunnel – Atlanta Greeting Card
Not mass produced – All prints and other physical items are made individually for your order.
Ships Within: 2 to 4 business days
About This Image
Krog Street Tunnel – Atlanta 5×7 Greeting Card by Mark Tisdale.
This Atlanta greeting card features the Krog Street Tunnel, a railroad underpass near the old mill village of Cabbagetown. This tunnel is fairly well known to Atlanta residents for its constantly changing graffiti.
There are probably few identical photographs of the tunnel. This is not just because each photographer has a different take on the setting. With the ever changing walls of the Krog Street Tunnel, wait a few days and it's an entirely different scene.
The view seen on this Krog Street Tunnel greeting card is a bit open to interpretation. It can be a simple architectural image, but to me the bright light at the end of the tunnel has a surreal feeling. Of course, your interpretation is your own! Is this simply a snippet of life in Atlanta's in-town neighborhoods or something deeper?
This Atlanta greeting card has been a popular choice over the years. I would love to hear your thoughts on this print and of course welcome your questions and/or comments about it.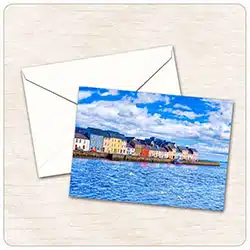 Greeting Cards – Product Information
Greeting cards are 5″ x 7″ in size and are produced on digital offset printers using 100 lb. paper stock. Each card is coated with a UV protectant on the outside surface which produces a semi-gloss finish. Each card comes with a white envelope.
These greeting cards may be ordered as a single card or in packs of 10 or 25 cards.
If you encounter difficulty accessing the on-site purchase button at the top of the page, please use this button to shop directly from Pixels/Fine Art America, the vendor who handles fulfillment for these products. And please notify me!