Loch Tulla Landscape – Scottish Highlands Greeting Card
Not mass produced – All prints and other physical items are made individually for your order.
Ships Within: 2 to 4 business days
About This Image
Loch Tulla Landscape – Scottish Highlands 5×7 Greeting Card by Mark Tisdale
This Scottish Highlands greeting card features the landscape surrounding Loch Tulla. This is Rannoch Moor and the mountains that dominate the left 2/3 of the scene are part of the Bridge of Orchy Munros. I believe the main one in this view is Beinn an Dòthaidh, but I welcome someone more familiar with this landscape correcting me. What I remember most is the late afternoon sunlight. I visited the Scottish Highlands in early January and the days were very short but when there was sunlight it was almost always at such an angle that it lit up the landscape beautifully. Years later I'm sure I must have been cold but all I remember is the gorgeous scenic countryside and wishing I never had to leave.
What does this view of Rannoch Moor seen in the image on this greeting card say to you? Does it remind you of your own adventures in the Scottish Highlands? Maybe you have ancestors in the area around the Bridge of Orchy? Or is it simply the incredibly Beautiful Scottish Highlands that caused you to stop and take notice of this landscape art? I hope you'll share your thoughts and of course any questions you might have by sending me a message.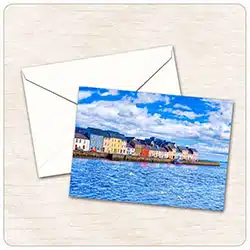 Greeting Cards – Product Information
Greeting cards are 5″ x 7″ in size and are produced on digital offset printers using 100 lb. paper stock. Each card is coated with a UV protectant on the outside surface which produces a semi-gloss finish. Each card comes with a white envelope.
These greeting cards may be ordered as a single card or in packs of 10 or 25 cards.
If you encounter difficulty accessing the on-site purchase button at the top of the page, please use this button to shop directly from Pixels/Fine Art America, the vendor who handles fulfillment for these products. And please notify me!