Middle Bay Lighthouse – Mobile Alabama Greeting Card
Not mass produced – All prints and other physical items are made individually for your order.
Ships Within: 2 to 4 business days
About This Image
Middle Bay Lighthouse – 5×7 Mobile Alabama Greeting Card by Mark Tisdale.
This Mobile Alabama greeting card features the historic Middle Bay Lighthouse. The Middle Bay Lighthouse is a screw-pile style lighthouse that was built in 1885. The lighthouse was automated in 1935 and deactivated in 1967. The original lantern tower atop the light was removed the same year. I wanted to depict the lighthouse closer to its original appearance rather than how it looks today.
The lighthouse seen on this card stands in Mobile Bay where it has stood for over a century but there is discussion of moving it inland to preserve it someday and there is active work to stabilize and restore the historic building. It's apparently one of the few remaining screw-pile style lighthouses still at sea today.
History aside, it's a beautiful historic structure in a gorgeous location. Imagine life at the turn of the previous century living out there for the lighthouse keeper and family – an isolated but scenic place to call home.
What catches your attention in this Middle Bay Lighthouse artwork?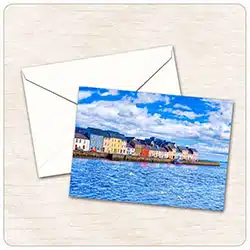 Greeting Cards – Product Information
Greeting cards are 5″ x 7″ in size and are produced on digital offset printers using 100 lb. paper stock. Each card is coated with a UV protectant on the outside surface which produces a semi-gloss finish. Each card comes with a white envelope.
These greeting cards may be ordered as a single card or in packs of 10 or 25 cards.
If you encounter difficulty accessing the on-site purchase button at the top of the page, please use this button to shop directly from Pixels/Fine Art America, the vendor who handles fulfillment for these products. And please notify me!