Paris In Autumn – Evening Light Greeting Card
Not mass produced – All prints and other physical items are made individually for your order.
Ships Within: 2 to 4 business days
About This Image
Paris In Autumn – Evening Light 5×7 Greeting Card by Mark Tisdale
This Evening light greeting card features a depiction of Paris in Autumn. This is largely a work of the imagination down to the perspective of the Eiffel Tower over the rooftops. This was a view I had in my head when I visited Paris in winter years ago. And I never found it. I'm not sure if it exists and I saw it in someone's photo at some point but I wandered the streets adjacent to the tower and never found a view from street level where I could see much if any of that large landmark. I know, poor me! I enjoyed the search and quite honestly enjoyed Paris more than I expected and want to return some day to Paris and also see what France outside of Paris is like when that time comes.
At any rate, I've seen Paris but not this view and I was not there in Autumn so this is my imaginings of what it might look like as the sun lights up the sky in the late afternoon/evening as the sun heads to the horizon.
If you have been to Paris in Autumn, I'd love to hear if you find this depiction reminds you of your time there. Or if like me you only dream of Paris in Autumn, I'd like to hear what attracted you to this image? The colors? The place? Hope you'll share any thoughts you have as well as questions you might have before or after your purchase.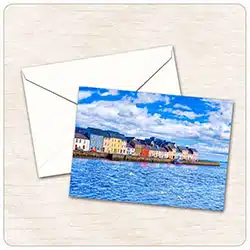 Greeting Cards – Product Information
Greeting cards are 5″ x 7″ in size and are produced on digital offset printers using 100 lb. paper stock. Each card is coated with a UV protectant on the outside surface which produces a semi-gloss finish. Each card comes with a white envelope.
These greeting cards may be ordered as a single card or in packs of 10 or 25 cards.
If you encounter difficulty accessing the on-site purchase button at the top of the page, please use this button to shop directly from Pixels/Fine Art America, the vendor who handles fulfillment for these products. And please notify me!