Portland Bill Lighthouse – Isle of Portland Greeting Card
Not mass produced – All prints and other physical items are made individually for your order.
Ships Within: 2 to 4 business days
About This Image
Portland Bill Lighthouse – Isle of Portland 5×7 Greeting Card by Mark Tisdale.
This Isle of Portland greeting card features the Portland Bill lighthouse. The choppy waters of the English Channel fill the scene along with skies that suggest a storm has recently passed. Construction was begun on the lighthouse in 1903 and completed in 1906. It's still in use as an aid to navigation today but was automated in the 1990's. Today this beautiful old lighthouse is also one of the main attractions of a visit to the Isle of Portland.
For many of us Lighthouses capture the imagination. There's a certain nostalgia and romanticism that has built up around them. For many there's also as well a lot of symbolism attached to lighthouses for being a guidepost in the storm. And of course, many surviving lighthouses are simply historic in nature. For me, it's a little bit of all of the above that attracts me to them as subjects for art. And of course, the seaside landscapes where one finds lighthouses is usually beautiful in its own right. Which as you can see from this artwork, is certainly the case here.
And I believe this Portland Bill lighthouse card will catch the eye of many lighthouse aficionados out there. Whether you've visited the Isle of Portland or not, it's simply an amazing scenic landscape on top of the lighthouse itself. If you have visited Portland Bill Lighthouse or have ties to it, I bet this a card with this lighthouse on it is even more special.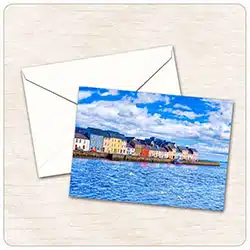 Greeting Cards – Product Information
Greeting cards are 5″ x 7″ in size and are produced on digital offset printers using 100 lb. paper stock. Each card is coated with a UV protectant on the outside surface which produces a semi-gloss finish. Each card comes with a white envelope.
These greeting cards may be ordered as a single card or in packs of 10 or 25 cards.
If you encounter difficulty accessing the on-site purchase button at the top of the page, please use this button to shop directly from Pixels/Fine Art America, the vendor who handles fulfillment for these products. And please notify me!