Rain by the Colosseum – Romantic Rome Greeting Card
Not mass produced – All prints and other physical items are made individually for your order.
Ships Within: 2 to 4 business days
About This Image
Rain by the Colosseum – Romantic Rome 5×7 Greeting Card by Mark Tisdale
This romantic Rome greeting card features square format artwork depicting rain by the Colosseum. The illuminated silhouettes of the arches of this ancient building are fairly recognizable the world over. In the foreground you can see a couple close together sheltered by an umbrella. The couple is mostly in silhouette but the thin fabric of the umbrella is filled with light.
It's been some years since I've been to Rome but one thing I remember vividly is the umbrella salesmen that seemed to be everywhere when it rained. Are tourists that bad about remembering their umbrellas? They are nowhere to be seen here but perhaps that umbrella was purchased moments before?
Does the artwork on this card remind you of a trip to Rome with someone special? Maybe you just enjoy the sense of light and being there regardless? I hope you'll share your thoughts. If you have a comment or a question, please drop me a note.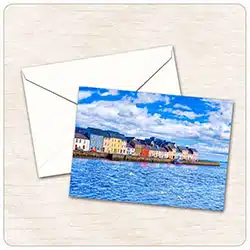 Greeting Cards – Product Information
Greeting cards are 5″ x 7″ in size and are produced on digital offset printers using 100 lb. paper stock. Each card is coated with a UV protectant on the outside surface which produces a semi-gloss finish. Each card comes with a white envelope.
These greeting cards may be ordered as a single card or in packs of 10 or 25 cards.
If you encounter difficulty accessing the on-site purchase button at the top of the page, please use this button to shop directly from Pixels/Fine Art America, the vendor who handles fulfillment for these products. And please notify me!