Rapeseed Field In Motion – English Landscape Greeting Card
Not mass produced – All prints and other physical items are made individually for your order.
Ships Within: 2 to 4 business days
About This Image
Rapeseed Field In Motion – English Landscape 5×7 Greeting Card by Mark Tisdale
This English landscape greeting card features artwork which is based on a memory of a daytrip to Canterbury some years ago. It's a memory that's etched on my brain. I wasn't prepared to take a picture but as the train headed for Canterbury that morning, I suddenly saw these golden fields. I had never seen anything like it and I remember asking someone sitting by me for information about what crop was being grown. And I found out that Rapeseed and canola are apparently related so it's possible you may have seen a similar sight elsewhere but it's not what I'm used to seeing in my part of the world. Anyway I have no photos from that day but I don't think I'll ever forget those brilliant gold rapeseed fields in motion outside the train window.
Does this remind you of a similar experience or do you just love the contrast of the blue skies and golden rapeseed? Certainly it was the colors that spoke to me at the time. I hope you'll share what attracts you to the art printed on this card. If you have comments or questions, please do drop me a note.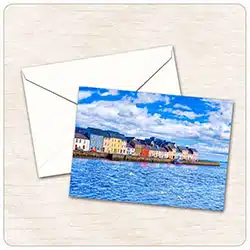 Greeting Cards – Product Information
Greeting cards are 5″ x 7″ in size and are produced on digital offset printers using 100 lb. paper stock. Each card is coated with a UV protectant on the outside surface which produces a semi-gloss finish. Each card comes with a white envelope.
These greeting cards may be ordered as a single card or in packs of 10 or 25 cards.
If you encounter difficulty accessing the on-site purchase button at the top of the page, please use this button to shop directly from Pixels/Fine Art America, the vendor who handles fulfillment for these products. And please notify me!