Sand Island Lighthouse – Mobile Alabama Greeting Card
Not mass produced – All prints and other physical items are made individually for your order.
Ships Within: 2 to 4 business days
About This Image
Sand Island Lighthouse – 5×7 Mobile Alabama Greeting Card by Mark Tisdale.
This Mobile, Alabama greeting card features Sand Island Lighthouse in the afternoon light of the setting sun. This old derelict lighthouse may seem ironically named as there's not any sand to speak of today. Yet I've read at the turn of the century there was enough of an island here that not only was there a keeper's cottage there was room for the lighthouse keeper to graze cows! In recent years Sand Island Lighthouse was briefly surrounded by sand once more, and although much of it washed away it was hoped that enough sand remains to shore up the base of the 1873 light.
There's been a lighthouse at this location at the mouth of Mobile Bay near Dauphin Island since the 1830's. It's hard to say how much longer the landmark will remain but it was a pleasure to capture it as it looks now against a backdrop of pink and gold skies reflecting in the gulf waters.
What attracts you to the image on this Sand Island Lighthouse greeting card? Are you fond of lighthouses in general or do you have roots in Mobile, Alabama?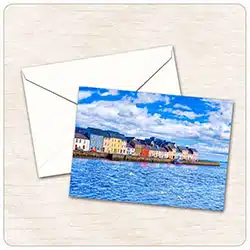 Greeting Cards – Product Information
Greeting cards are 5″ x 7″ in size and are produced on digital offset printers using 100 lb. paper stock. Each card is coated with a UV protectant on the outside surface which produces a semi-gloss finish. Each card comes with a white envelope.
These greeting cards may be ordered as a single card or in packs of 10 or 25 cards.
If you encounter difficulty accessing the on-site purchase button at the top of the page, please use this button to shop directly from Pixels/Fine Art America, the vendor who handles fulfillment for these products. And please notify me!