Sugar Skull – Day of the Dead Greeting Card
Not mass produced – All prints and other physical items are made individually for your order.
Ships Within: 2 to 4 business days
About This Image
Sugar Skull – Day of the Dead 5×7 Greeting Card by Mark Tisdale
This Day of the Dead greeting card depicts a colorful Sugar Skull or Calavera which is part of Mexican tradition. The dia de los Muertos is typically celebrated on November 1st and 2nd although the day varies by region. There's disagreement over whether it's an Indigenous celebration that has been combined with All Souls Day or if it's Spanish in origin. Regardless of its ultimate origin, it seems like it has definitely evolved into the day we know in Mexico. I had the pleasure of visiting some colorful Mexican cemeteries during my visits there but I've never experienced Day of the Dead first hand – still on the list! But as you can see I was inspired by the colorful Sugar Skull depictions.
I would enjoy hearing what attracted you to this artwork on this card? Are you similarly intrigued by Day of the Dead celebrations? Or maybe you are of Mexican heritage or shopping for someone who is? If you have comments or questions you'd like answered, I hope you will drop me a note.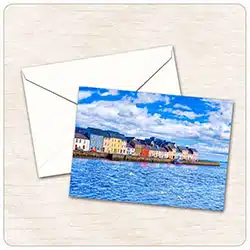 Greeting Cards – Product Information
Greeting cards are 5″ x 7″ in size and are produced on digital offset printers using 100 lb. paper stock. Each card is coated with a UV protectant on the outside surface which produces a semi-gloss finish. Each card comes with a white envelope.
These greeting cards may be ordered as a single card or in packs of 10 or 25 cards.
If you encounter difficulty accessing the on-site purchase button at the top of the page, please use this button to shop directly from Pixels/Fine Art America, the vendor who handles fulfillment for these products. And please notify me!