Tango Dancers – Romantic Paris Greeting Card
Not mass produced – All prints and other physical items are made individually for your order.
Ships Within: 2 to 4 business days
About This Image
Tango Dancers – Romantic Paris 5×7 Greeting Card by Mark Tisdale
Experience the magic of love and the city of Paris with Romantic Paris greeting card depicting tango dancers. The captivating artwork printed on this card features a dynamic scene with man and a woman tango dancing beneath a starry night sky, with the magnificent Eiffel Tower in the distance.
The couple is dancing on the Pont de Bir-Hakeim which crosses the River Seine near that famous landmark. This artwork, "Last Tango In Paris" was inspired by the movie title of the sam ename however that's the only connection between the two. The title gave me this vision of a man and woman engaged in what is known as a "leg wrap" or enganche – a memorable Tango Dance move.
The rich colors and details of the artwork bring the scene to life, which makes it a great addition to any space. This romantic Paris greeting card is available as a single greeting card or in packs. The artwork can also be ordered on other substrates such as canvas, metal or art prints for framing. With all these options you can have your choice of greeting cards or wall art.
Hang this piece in your living room, bedroom, or any other space to add a touch of romance and sophistication. There's no doubt this lively artwork will be a conversation starter for years to come. These greeting cards are printed professionally and shipped to you with an envelope for each card.
Make a statement with these Tango Dancers as a Romantic Paris greeting card that will enrich your life as well as the recipient's with dance and romance.
I would love to hear what attracts you to this artwork? Are you a fan of tango dancing? Paris? Both? I hope you'll let me know.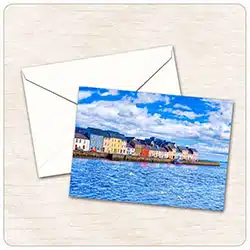 Greeting Cards – Product Information
Greeting cards are 5″ x 7″ in size and are produced on digital offset printers using 100 lb. paper stock. Each card is coated with a UV protectant on the outside surface which produces a semi-gloss finish. Each card comes with a white envelope.
These greeting cards may be ordered as a single card or in packs of 10 or 25 cards.
If you encounter difficulty accessing the on-site purchase button at the top of the page, please use this button to shop directly from Pixels/Fine Art America, the vendor who handles fulfillment for these products. And please notify me!