The Course of True Love – Shakespeare Quote Greeting Card
Not mass produced – All prints and other physical items are made individually for your order.
Ships Within: 2 to 4 business days
About This Image
The Course of True Love – Shakespeare Quote 5×7 Greeting Card by Mark Tisdale.
This Shakespeare quote greeting card features a short but meaningful quote from A Midsummer Night's Dream.
"The course of true love never did run smooth."
But as the kissing couple seen on this card suggests, perhaps the troubles are worth it when you have one another! I based this image off a scene far from the shores of England where William Shakespeare originally wrote these lines. It was a stormy beach in Mexico where I encountered this blissful couple in their own world. There was just something about the brooding skies and their romantic embrace that reminded me of this Shakespeare quote.
What drew you to this particular greeting card? Does the image on it remind you of a relationship in your own life? Or maybe you're looking for a gift idea for friends who would find this image meaningful?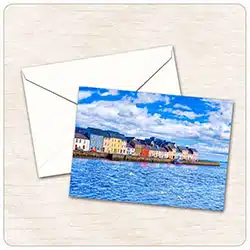 Greeting Cards – Product Information
Greeting cards are 5″ x 7″ in size and are produced on digital offset printers using 100 lb. paper stock. Each card is coated with a UV protectant on the outside surface which produces a semi-gloss finish. Each card comes with a white envelope.
These greeting cards may be ordered as a single card or in packs of 10 or 25 cards.
If you encounter difficulty accessing the on-site purchase button at the top of the page, please use this button to shop directly from Pixels/Fine Art America, the vendor who handles fulfillment for these products. And please notify me!