Traditional Mexican Architecture – Vibrant Merida Greeting Card
Not mass produced – All prints and other physical items are made individually for your order.
Ships Within: 2 to 4 business days
About This Image
Traditional Mexican Architecture – Vibrant Merida 5×7 Greeting Card by Mark Tisdale.
The subject of this vibrant Merida greeting card is traditional Mexican architecture. If you visit many colonial cities in Mexico, this is a fairly typical scene with monolithic walls and large doors. Often the doors are ornate, or in the case of the one seen here, there's elaborate ironwork It may not be apparent from the photo but those walls are usually thick and unless they've been recently painted, there's often a bit of onion peel to the paint and plaster. But what I love most about this scenic view of the traditional Mexican architecture in Merida is the vibrant red. And although the colors vary, colorfully painted architecture is practically synonymous with Mexico. If you love bright colors, Mexico is surely memorable.
I would love to hear what you found attractive in the image on this Mexican architecture greeting card? Have you visited Merida too or is it simply down to the textures and vivid colors in this image of Mexico?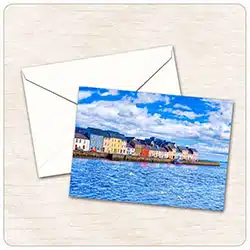 Greeting Cards – Product Information
Greeting cards are 5″ x 7″ in size and are produced on digital offset printers using 100 lb. paper stock. Each card is coated with a UV protectant on the outside surface which produces a semi-gloss finish. Each card comes with a white envelope.
These greeting cards may be ordered as a single card or in packs of 10 or 25 cards.
If you encounter difficulty accessing the on-site purchase button at the top of the page, please use this button to shop directly from Pixels/Fine Art America, the vendor who handles fulfillment for these products. And please notify me!