Tropical Boat On The Water – Gulf of Mexico Greeting Card
Not mass produced – All prints and other physical items are made individually for your order.
Ships Within: 2 to 4 business days
About This Image
Tropical Boat On The Water – Gulf of Mexico 5×7 Greeting Card by Mark Tisdale.
The subject of this Gulf of Mexico greeting card is a cheerful tropical boat on the water. This is from my trip years back to Celestun, a fishing village/beach town on Mexico's gulf coast. Celestun is also home to an Biosphere Reserve that protects among other things, flocks of flamingos. When I visited these boats were lined up taking visitors along the coast to enjoy the sights. To me the boats themselves were a work of art, coated in texture from the harsh conditions, chipped paint that was characterful. And of course framed by that beautiful tropical colored water. And the blue skies that were more clear than cloudy. I look at this and feel joy.
How does this scenic view of a tropical boat on the water make you feel? I would love to hear what attracts you to this image on this card? Have you been to Celestun and enjoyed the gulf waters there or is it simply down to the feeling it evokes?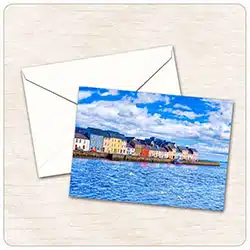 Greeting Cards – Product Information
Greeting cards are 5″ x 7″ in size and are produced on digital offset printers using 100 lb. paper stock. Each card is coated with a UV protectant on the outside surface which produces a semi-gloss finish. Each card comes with a white envelope.
These greeting cards may be ordered as a single card or in packs of 10 or 25 cards.
If you encounter difficulty accessing the on-site purchase button at the top of the page, please use this button to shop directly from Pixels/Fine Art America, the vendor who handles fulfillment for these products. And please notify me!