Walking The Dog – Autumn Greeting Card
Not mass produced – All prints and other physical items are made individually for your order.
Ships Within: 2 to 4 business days
About This Image
Walking The Dog – 5×7 Autumn Greeting Card by Mark Tisdale.

This autumn greeting card features a colorful scene with a man walking the dog on a path lined with abstract fall foliage. This was in part inspired by memories of my late father who was always the "dog person" in our family. The rest is inspired quite simply by my love for autumn, particularly in places where fall color rules the season. When I lived in the north Atlanta suburbs I would often drive up into the North Georgia mountains on weekends to take in the sights. Despite the almost frenetic colors, there's something to me very calming about the sight. How about you?

Does the man walking the dog in the image on this card remind you of yourself or maybe someone special to you? Although not directly modeled on my father he was very much in my thoughts while working on the artwork on this autumn artwork. If you look closely he's holding a stick rather than a leash. Perhaps it's no surprise that Dad, who grew up on baseball, loved to play fetch with our dogs. Jack, his last dog, was the only one though that got particularly good at the returning the stick part. Ha!

This colorful autumn scene simply makes me smile. The warm mix of colors is heartwarming on its own. I can hear the sounds of the woods and can imagine the dog bounding off after the stick in a moment. The simple things in life…

What attracts you to this scene? What memories does it evoke? I hope you'll share your thoughts.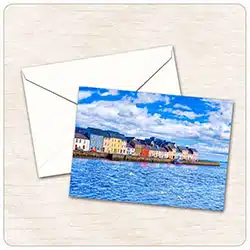 Greeting Cards – Product Information
Greeting cards are 5″ x 7″ in size and are produced on digital offset printers using 100 lb. paper stock. Each card is coated with a UV protectant on the outside surface which produces a semi-gloss finish. Each card comes with a white envelope.
These greeting cards may be ordered as a single card or in packs of 10 or 25 cards.
If you encounter difficulty accessing the on-site purchase button at the top of the page, please use this button to shop directly from Pixels/Fine Art America, the vendor who handles fulfillment for these products. And please notify me!