1969 Camaro Artwork – Classic Hugger Orange Greeting Card
Not mass produced – All prints and other physical items are made individually for your order.
Ships Within: 2 to 4 business days
About This Image
1969 Camaro Artwork – Classic Hugger Orange 5×7 Greeting Card by Mark Tisdale
This 1969 Camaro artwork is definitely a portrait of a classic American muscle car. The image on this classic hugger orange greeting card is among my more popular artworks. There's just something about the front end of the car that is aggressive and cool which this image well captures.
I've said before that I don't consider myself an auto enthusiast. I couldn't speak to you about the engine of a Z28 Camaro or its speed. But I love auto design. These days a lot of the flair has been exchanged for aerodynamics but the designs of yesteryear seem more fearless. And cars like this classic Camaro are the stuff of legends – cars that people who had one fondly remember and ones that are still sought after decades after they rolled off the assembly line.
If you go through my artwork, you'll notice this 1969 Camaro artwork stands apart just a little and that's down to the choice of color. I love blue. And I was so tempted to do this in a classic shade of 1960's blue. But Hugger Orange is one of the most sought after colors for a Camaro of this vintage and I think it's genuinely a more eye-catching color for this Chevrolet Camaro greeting card! I bet it grabbed your attention didn't it?
The 1969 Camaro came at the zenith of the classic muscle car era and I think for many it is part of a pantheon from that golden age of pony cars. In just a few short years muscle cars would fade from the scene due to new emissions standards and the oil crisis. This Camaro artwork was a must-have part of my classic car collection of art. It was enjoyable simply because of the great auto design it captures but it's hard to imagine this art series without at least one 1969 Camaro image like the one on this greeting card, don't you agree?
If you enjoy the style of this classic 1969 Camaro artwork but have a different subject in mind, don't hesitate to contact me. And I would love to hear your thoughts on this Camaro wall art? Is the 1969 Camaro model year significant to you for some reason or do you just love classic muscle cars in general? Maybe you had a Hugger Orange Camaro like this? I hope you'll share your thoughts and any questions and keep in mind that if you like the style of this but it's not quite what you were looking for, I welcome suggestions.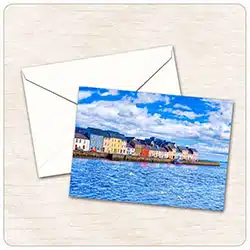 Greeting Cards – Product Information
Greeting cards are 5″ x 7″ in size and are produced on digital offset printers using 100 lb. paper stock. Each card is coated with a UV protectant on the outside surface which produces a semi-gloss finish. Each card comes with a white envelope.
These greeting cards may be ordered as a single card or in packs of 10 or 25 cards.
If you encounter difficulty accessing the on-site purchase button at the top of the page, please use this button to shop directly from Pixels/Fine Art America, the vendor who handles fulfillment for these products. And please notify me!