Old Mill In The Morning – Autumn Greeting Card
Not mass produced – All prints and other physical items are made individually for your order.
Ships Within: 2 to 4 business days
About This Image
Old Mill In The Morning – 5×7 Autumn Greeting Card by Mark Tisdale
This autumn greeting card features a rustic old mill in the morning. This is largely a work of the imagination but is influenced by old grist mills I've seen growing up in Georgia. Many of them were ruins that have long since vanished from the landscape. Luckily some are still preserved for future generations to see another side of the life our ancestors lived.
In this scene, you can see the old mill sitting on the banks of a stream. There are autumn colors in the foreground but the distance is mostly masked by fog which is drifting over thee water. There's a splash of red among the warm golden hues of the larger scenes. I would definitely say there's a hint of nostalgia not just in the subject but in the overall color tones themselves.
What do you think? What attracted you to the image on this particular autumn greeting card? I hope you'll share your thoughts. Whether your have comments or questions, I hope you'll drop me a note!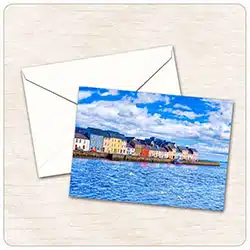 Greeting Cards – Product Information
Greeting cards are 5″ x 7″ in size and are produced on digital offset printers using 100 lb. paper stock. Each card is coated with a UV protectant on the outside surface which produces a semi-gloss finish. Each card comes with a white envelope.
These greeting cards may be ordered as a single card or in packs of 10 or 25 cards.
If you encounter difficulty accessing the on-site purchase button at the top of the page, please use this button to shop directly from Pixels/Fine Art America, the vendor who handles fulfillment for these products. And please notify me!