Blue Skies Over The River Corrib – Galway Ireland Greeting Card
Not mass produced – All prints and other physical items are made individually for your order.
Ships Within: 2 to 4 business days
About This Image
Blue Skies Over The River Corrib – Galway Ireland 5×7 Greeting Card by Mark Tisdale.

This Galway Ireland greeting card features a beautiful view of blue skies over the River Corrib. One of the things I loved about the city of Galway was that nature didn't seem so far away. I mean, what a gorgeous Irish landscape and the skies were only helping the view on this particular day. And I love reflecting skies in water and the light was just right for it, as you can see. The sky and the water is almost a perfect reflection.

Another thing that I love about this scene is the variety of things to focus on. Not just a pretty reflection, there are small details like the collection of boats resting on the shore of the River Corrib on the far right. And on the far left you can see a collection of homes that must have a great view of the river. And of course there's the wonderful cloud formations and the warm golden orange hue of the reeds or river grasses that are also reflecting in the water's surface. It's hard for me to pick a favorite part of this Irish landscape.

How about you? What attracts you to this particular Galway Ireland greeting card? Does it remind you of an afternoon walk on the banks of the Corrib underneath similar blue skies? Or do you love vibrant skies reflecting in water as seen here? I hope you'll share your thoughts about the image on this particular card.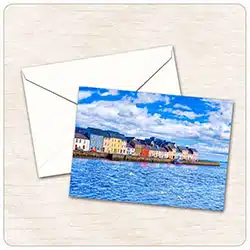 Greeting Cards – Product Information
Greeting cards are 5″ x 7″ in size and are produced on digital offset printers using 100 lb. paper stock. Each card is coated with a UV protectant on the outside surface which produces a semi-gloss finish. Each card comes with a white envelope.
These greeting cards may be ordered as a single card or in packs of 10 or 25 cards.
If you encounter difficulty accessing the on-site purchase button at the top of the page, please use this button to shop directly from Pixels/Fine Art America, the vendor who handles fulfillment for these products. And please notify me!