Empire Building – Vintage Birmingham Alabama Greeting Card
Not mass produced – All prints and other physical items are made individually for your order.
Ships Within: 2 to 4 business days
About This Image
Empire Building – Vintage Birmingham Alabama 5×7 Greeting Card by Mark Tisdale
The image on this vintage Birmingham Alabama greeting card features the landmark Empire Building. It's closely based on a vintage postcard printed circa 1910. In my spare time, I enjoy scanning and restoring vintage postcards for prints. And while I found multiple copies of this historic Birmingham postcard, none of them were in good enough condition to do a simple restoration. Instead I chose to keep the basic look and feel with some artistic license to make it suitable to print large.
The vintage postcard used for this Birmingham greeting card shows the historic Empire Building reaching into an inky blue night sky. The Empire Building is also known as the City National Bank Building. Completed in 1909, the 16 story building was designed in the neoclassical style. When completed it was the tallest building in the entire state of Alabama. The Empire Building eventually fell vacant and was only in recent years renovated and reopened as the Elyton Hotel – a luxury hotel. What a great fate for a century old and iconic building! Too many end up meeting the wrecking ball.
The original Birmingham Empire Building postcard must have been published when the building was still fairly new. There's no printing date on the postcards I have but the postmarks range from 1912 to 1917. And a further clue to the age of this vintage Birmingham, Alabama, postcard lies in the publisher. William H. Faulkner owned and operated the Post Card Exchange Publishers in Birmingham, AL, from 1909 to 1919.
If you have memories of the old Empire Building in Birmingham or general thoughts on the art on this vintage Alabama greeting card, I hope you'll share them. Please feel free to drop me a note with your thoughts or questions.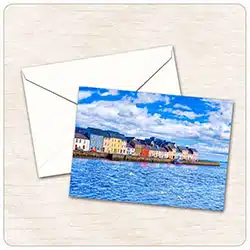 Greeting Cards – Product Information
Greeting cards are 5″ x 7″ in size and are produced on digital offset printers using 100 lb. paper stock. Each card is coated with a UV protectant on the outside surface which produces a semi-gloss finish. Each card comes with a white envelope.
These greeting cards may be ordered as a single card or in packs of 10 or 25 cards.
If you encounter difficulty accessing the on-site purchase button at the top of the page, please use this button to shop directly from Pixels/Fine Art America, the vendor who handles fulfillment for these products. And please notify me!