Vintage Andalusia Post Office – Alabama Greeting Card
Not mass produced – All prints and other physical items are made individually for your order.
Ships Within: 2 to 4 business days
About This Image
Vintage Andalusia Post Office – Alabama 5×7 Greeting Card by Mark Tisdale
This Alabama greeting card features restored postcard art featuring the Vintage Andalusia Post office. In my Mom's childhood her father, who was a rural mail carrier for 46 years, worked out of this very building. The same year he retired, 1965, Andalusia got a new post office. Newer residents will recognize this building as the local library.
Because of the personal connection to this place, this was a special task to restore this view of the Andalusia post office back to its original and vibrant glory. The building on South Three Notch Street opened its doors in 1926.
This restored vintage Andalusia postcard was originally published by Curt Teich & Company, a Chicago publisher of postcards that was open from 1898 until 1978. The postcards they published are a true slice of Americana across much of the 20th century. These color postcards were created from black and white photographs that were converted to halftone. Printing was done in a lithographic process. The color plates were designed by artists for each color postcard. They were truly an art form in their own right.
This particular vintage Andalusia postcard was published in 1941. The number in the bottom right corner indicates this particular postcard was a reprint of that 1941 postcard. I've worked to remove any damage and fading but to otherwise retain the spirit of the vintage postcard. In fact, if you choose to purchase a reproduction print at larger sizes than the original, viewed up close, you'll be able to see the halftone and paper pattern from the original printed card.
I would love to hear what brought you to the image on this Andalusia Alabama greeting card? Do you also have roots in Andalusia? Or maybe you are a current resident and love local history? Please stop and share what attracted you to this particular piece of restored vintage art.
Note: Downtown Andalusia including the old post office is part of a designated United States National Historic District.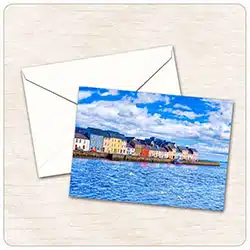 Greeting Cards – Product Information
Greeting cards are 5″ x 7″ in size and are produced on digital offset printers using 100 lb. paper stock. Each card is coated with a UV protectant on the outside surface which produces a semi-gloss finish. Each card comes with a white envelope.
These greeting cards may be ordered as a single card or in packs of 10 or 25 cards.
If you encounter difficulty accessing the on-site purchase button at the top of the page, please use this button to shop directly from Pixels/Fine Art America, the vendor who handles fulfillment for these products. And please notify me!