Give the Gift of Art This Year
Oh my gosh, nearly three months without an update! Shame on me. I have let entirely too much grass grow under my feet of late, and there's much irony in that statement… For those who haven't heard, I managed to fall and break my foot four weeks ago. The one positive has been that I have had time to sit and complete the upload of my Ireland Collection to my Fine Art America Account. Miles to go on getting the rest of my prints available there, I fear.
What spurred me to sit down and provide an update is oddly enough a poignant little graphic I stumbled across that eloquently explains better than I could how much small business matters.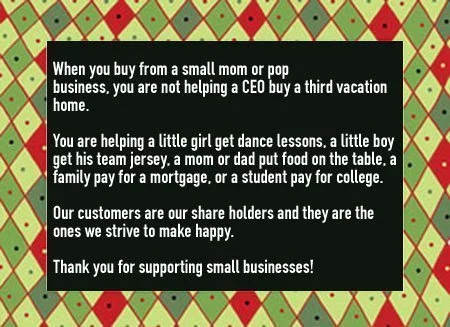 I wish I knew who to credit for this, but it arrived without attribution in my inbox. Speaks volumes, doesn't it? While the money you spend at the big box store may help our economy a little, nothing has the impact of shopping with the mom and pops.
The Gift of Art – A Gift Times Two
Thus as a visual artist my very specific appeal to you this season. Give the gift of art this year! Whether you find something among my work or from one of my many peers, it's a meaningful gift on all accounts. Each gift of art from an independent artist or artisan is a gift that helps those of us who are trying to live our dreams stay afloat another day.
I have lost count of how many times I have received messages from other would-be-full-time-artists. And the common subject always seems to revolve around advice that would enable them to take the leap I took. I never know how to respond. I personally have no regrets. I love what I do, but it's also a daily financial roller coaster that is not for the weak of heart. When I broke my foot, as I sat in the Emergency Room, my mind revolved between the pain in my foot and the pain in my wallet. If you love the predictability of a paycheck, this life may not be for you!
I suspect you'll also find that the gift of art is one that has much meaning to the recipient. For me anyway, it's rarely the hottest gift of Christmas Past that I remember or still have in my possession long after. Giving a gift that your loved ones can't find on the shelves of a big box store is much more likely to be something that is remembered for years and possibly even passed down one day.
And it truly is a gift with twice the impact. It would mean much to my bottom line this year if you decide to give the gift of art from the offerings in my portfolio, but I will be happy if I hear I've convinced you to shop small this year from another artist or artisan. I would also be very appreciative if you take the time to share my message with your friends and family. Even if you are unable to directly support my work right now, your kind word of mouth is utterly priceless! There are many ways you can help us mom and pops!
My Small Gift to You
I can't provide the deep discounts and such that the big guys are offering you right now, but I did want to do something for Small Business Saturday this year. So, if you give the gift of art from my main gallery, you'll get a little discount that should at least pay for standard shipping plus some change. The discount code is entered on the page where you choose shipping. The code is:
SB2012
In the US and Canada, this is good for $10 off your purchase. If your currency is British Pounds, it's good for £6, and if your purchase is in Euros, it's good for €7. This discount is good until Midnight in the Eastern US time zone on Nov 24th! Just a small window, but this discount is a heartfelt thanks for each of you that has helped me one way or another follow my dreams. Whether you've purchased in the past or have shared my work with your friends, I'm in your debt.
If you've stumbled across this message after the discount ended, I still hope you'll wander through my print galleries and see if you find the gift of art you're looking for this year.
These are the main sites where you can find my visual art:
The prints on offer and the substrates available for printing are not the same between these sites, so if you find something on one site that's not available on the site where you'd prefer to purchase, or if you have any questions or special requests, just drop me a note.