Arthur's Return – Glastonbury Tor Greeting Card
Not mass produced – All prints and other physical items are made individually for your order.
Ships Within: 2 to 4 business days
About This Image
Arthur's Return – Glastonbury Tor 5×7 Greeting Card by Mark Tisdale
This Glastonbury Tor greeting card features a depiction of Arthur's Return on the night of a full moon. In the foreground the figure of Arthur is surrounded by mists and magical light. On the top of the Tor is St. Michael's Tower, all that remains of a medieval church that was pulled down during Henry VIII's dissolution of the monasteries.
Years ago I visited Glastonbury Tor on a sunny late summer day so this is largely a work of the imagination but I will never forget the feeling of walking up that hill. Glastonbury Tor is thought by some to be the mystical Avalon from the legends of King Arthur. Before farming changed the landscape, the fens that surround the tor formed a marshy lake around it. So it was an island in the past. Hmmm!
This artwork imagines the return of King Arthur to the Avalon of today. I would love to hear your thoughts on the image on this Glastonbury Tor card. Have you visited this place or do you simply enjoy the Arthurian legends? Whether you have questions or comments, I hope you'll drop me a note.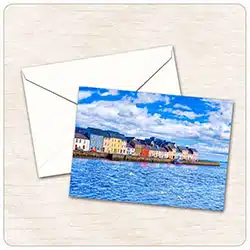 Greeting Cards – Product Information
Greeting cards are 5″ x 7″ in size and are produced on digital offset printers using 100 lb. paper stock. Each card is coated with a UV protectant on the outside surface which produces a semi-gloss finish. Each card comes with a white envelope.
These greeting cards may be ordered as a single card or in packs of 10 or 25 cards.
If you encounter difficulty accessing the on-site purchase button at the top of the page, please use this button to shop directly from Pixels/Fine Art America, the vendor who handles fulfillment for these products. And please notify me!