Flint River Farms School – Macon County Georgia Greeting Card
Not mass produced – All prints and other physical items are made individually for your order.
Ships Within: 2 to 4 business days
About This Image
Flint River Farms School – Macon County Georgia 5×7 Greeting Card by Mark Tisdale.
This Macon County Georgia greeting card features artwork depicting the historic Flint River Farms School. This school was opened in 1938 as part of a "resettlement" program by the Farm Security Administration. These resettlement programs were part of a plan to relocate and train poor farmers in an attempt to improve their lot in life. In the case of the Flint River Farms resettlement program it was an African American community. The program folded in the late 1940's but the school at the heart of the community remained one of the schools for the local Black community until sometime in the 1950's. The school itself burned in the 1960's.
My artwork is based off a series of black and white photos taken by Marion Post Wolcott in her work for the FSA in the depression era. Her photos were taken in May, 1938. So the image on this greeting card is a glimpse of the Flint River Farms School as it looked when it was new.
The history of this school and community is being preserved by the Flint River Farm School Preservation Society which marked the location – you can find more about its history on their site.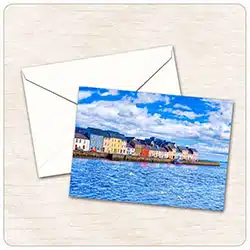 Greeting Cards – Product Information
Greeting cards are 5″ x 7″ in size and are produced on digital offset printers using 100 lb. paper stock. Each card is coated with a UV protectant on the outside surface which produces a semi-gloss finish. Each card comes with a white envelope.
These greeting cards may be ordered as a single card or in packs of 10 or 25 cards.
If you encounter difficulty accessing the on-site purchase button at the top of the page, please use this button to shop directly from Pixels/Fine Art America, the vendor who handles fulfillment for these products. And please notify me!