Sometimes the subjects of my new art are my own imagination but others like this Angel Oak wall art are the result of suggestions from customers and people who follow my work on social media. I won't always promise that I'll deliver right away but most of the time requests go to my ever-growing list of art subjects I'd like to tackle when inspiration strikes. Some subjects are more inspiring than others. Not to say they are more deserving just that I look at them, and there's something magical – an instant connection with the subject.
Anyone who has visited the Angel Oak on Johns Island near Charleston, South Carolina, can no doubt identify with what I'm saying. It's simply a magical sight. This centuries old live oak looks like a set piece from a fantasy movie. Heck, I can picture easily picture Shakespeare's A Midsummer Night's Dream being acted out beneath those limbs, can't you?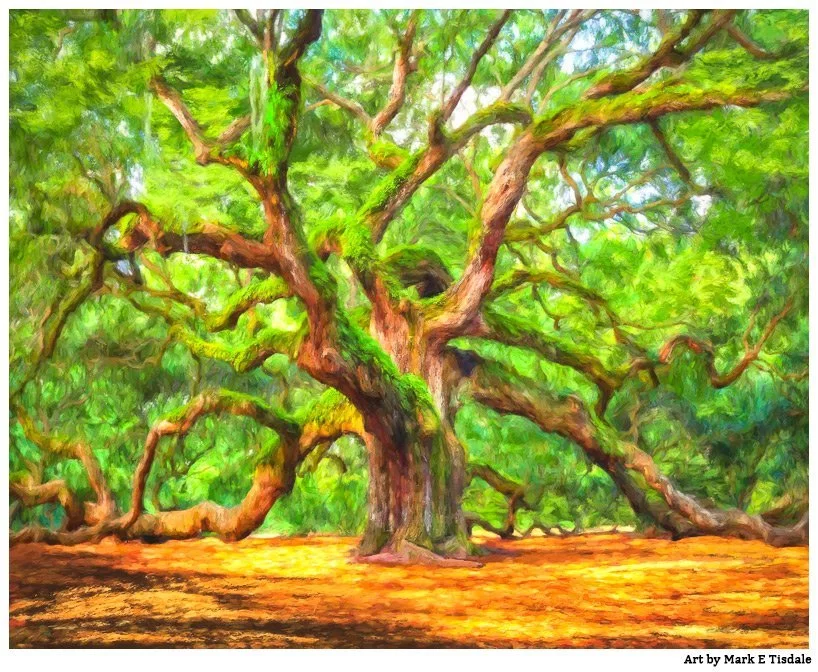 I have to admit I found this particular subject challenging. If you look at my work, my trees are usually more abstract because the subject is a building or other landmark nearby. In this case the well known Angel Oak itself is the landmark! It may surprise you to know I started and abandoned one version of this. I was nearly done, took a step back and was not happy with where it was going. And I began again and am so happy for going with my gut. My second time around, seen here, makes me smile every time I look at it. This captures the undulating limbs, the warm glow of light through the canopy of leaves and the majesty and magic of that ancient oak tree!
I've read estimates that the Angel Oak is anywhere from three hundred to five hundred years old. Further I discovered that live oaks tend to grow outward more than upward. It's only because of the advanced age of the Angel Oak that it's as tall as it is. meanwhile the limbs not only touch the ground but have rooted in places. It's almost a forest in and of itself.
And based on the reception this new print has gotten, I think I've done that fantastic tree some justice. I've heard good feedback both from people who have seen it and others who just love the fantastical vibe of this print.
I would love to hear your thoughts on this Angel Oak wall art. If you've been does this print capture the majesty of that landmark oak? Whether you've been or not, I hope you'll share your feelings in the comments!
If you're interested in finding out more about purchasing prints of the Angel Oak as a gift or to hang on your own walls, you can click the button below for details and feel free to send me a message directly if you have questions.