Autumn Love – Forest Path Art
Autumn love in this case is a bit of a play on words. This forest path art represents both my own love of autumn and autumn love in the guise of the older couple seen together in a brilliantly colored fall woodland. When I was working on this a couple of lines from a Robert Browning poem were in my head. Many of you will probably recognize it.
"Grow old along with me! The best is yet to be, the last of life, for which the first was made."

From Rabbi Ben Ezra by Robert Browning
I love artwork that celebrates the autumn season. Maybe in part that's because I grew up in the American south where summers are hot and humid. Crisp autumn air is a welcome respite for many of us in this corner of the world. But as someone very visual, undoubtedly the colorful fall foliage plays a huge part, too. And I came to appreciate that during the years I lived in Atlanta's northern suburbs. When the leaves started to change, I spent almost many weekends out enjoying that brief time when nature takes out its paint brush. This was much more pronounced where I lived then that it is where I grew up where evergreen pines dominate much of the landscape.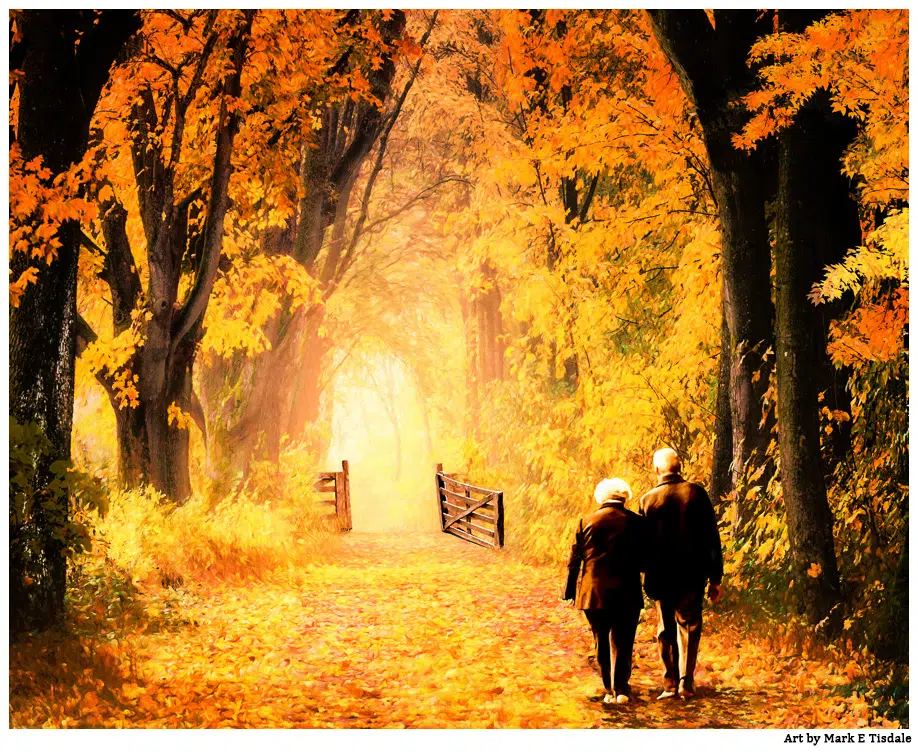 So that explains my love for autumnal images, but this artwork is at least as much about capturing a feeling of enduring love. There are various people in my life that spring to mind when I look at this, and I bet it's the same for you. Their frail frames add a personal dimension to the image. Not only do they lend scale to the trees framing the forest path, they give us a personal point of reference whether we see ourselves in them or a couple dear to us.
Without that older couple, this would still be a beautiful autumn landscape painting. It's filled with a range of warm gold and orange colors and a sense of radiating sunlight against the silhouetted trees of the forest. With them, however, you start to build a story.
What stories spring to your mind when you see this forest path art? Does it remind you of someone in particular or simply something to aspire to? I hope you'll take a moment to share your thoughts either in the comments or if you'd like you may privately send a message to me. And as always if you have questions, ask away!