St. Augustine Lighthouse – Florida at Night Art
The St. Augustine Lighthouse seen in this artwork is an historic part of Florida. The original tower was built when Florida was still a US territory. The 1824 light, however, was a victim of beach erosion and was in danger of falling into the ocean by 1870 and had to be replaced. The current tower was completed in 1874 and is only the second tower. There were however a number of smaller beacons and wooden watch towers that were built by the Spanish and British going all the way back to the 16th century. The current light is still a working light today. It is a private aid to navigation, owned and maintained by a nonprofit maritime museum.
As soon as I saw the St. Augustine lighthouse, I immediately imagined how it would look on a clear night with that tall tower reaching into the dark starry night sky. That image was simply fixed in my mind and nothing else would do. While the St. Augustine Light is not the tallest in Florida, it still clocks in at an impressive 164 feet standing far above the tree canopy on the north end of Anastasia Island. Both the tree line and the shore is seen in this artwork. That as well as the house gives a sense of scale to the beacon, don't you think?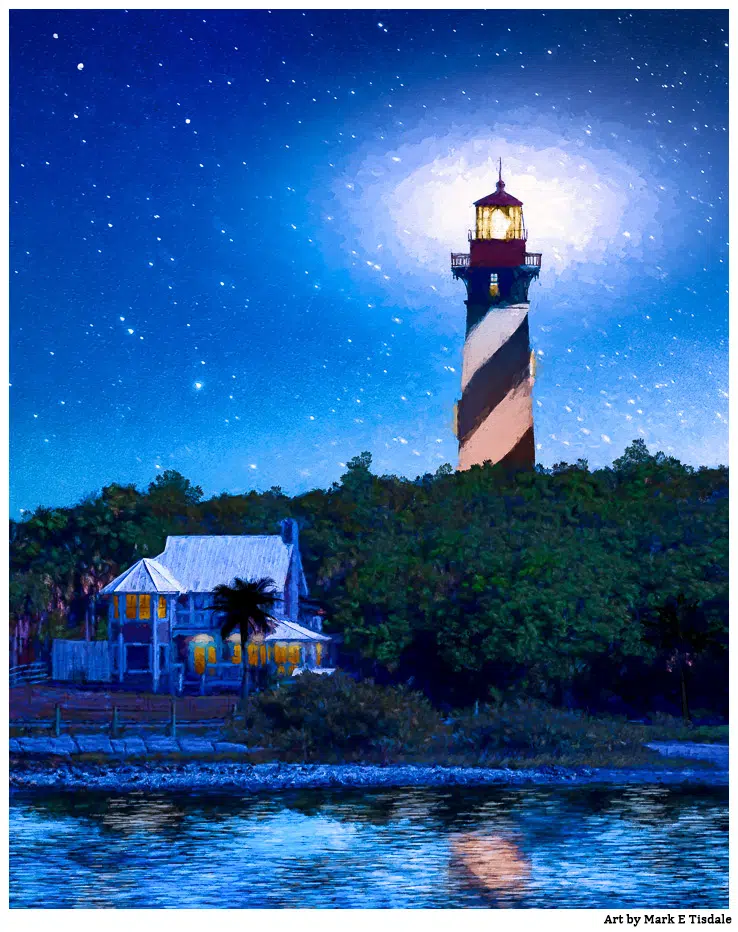 My St. Augustine lighthouse artwork includes the distinctive daymark with black and white swirl stripes and the red top to the light. And the light itself glows warmly in the dark blue skies. If you've looked at my other lighthouse art, you'll see that this is definitely among my favorite color combinations, particularly for night scenes. I find the warm glow of the light is very welcoming and comforting. What do you think? Does it leave you with the same feeling?
I'm always curious what draws people to a particular piece of art. Does this view of coastal Florida at night remind you of a visit to St. Augustine? Maybe you collect lighthouse art and this one speaks to you despite not having been? I hope you'll share your thoughts either in the comments below or you can send a message to me privately if you'd rather.